About - My Jerusalem Photo Archive

Duchin Studios presents - over 1,000 unique photos of Jerusalem.
The CD covers 29 subjects from Ancient Archeological Sites to Modern Jerusalem

Royalty FREE for personal printing - publishing & Graphic Design.
(Commercial use please contact TES for pricing details

CD is ideal for creating your own... POSTERS - POST CARDS - FRAMED PRINTS - PUBLICATIONS
NEWSLETTERS - BOOKS - WEB GRAPHICS - SCHOOL PROJECTS - PROFESSIONAL USE...

Features - My Jerusalem Photo Archive

Over 1000 Unique Photos of Jerusalem in 29 categories including:

* Archeology
* Armenian Quarter
* Cardo
* Celebrations
* Gates
* Faces
* Graves
* Jerusalem Day Celebration
* Jewish Quarter
* King David
* Mount of Olives
* Ramparts Walk
* Scenic Views
* Shuk
* Signs
* Synagogues
* Temple Mount
* The Burnt Museum
* Western Wall
* Western Wall Tunnels


Images - My Jerusalem Photo Archive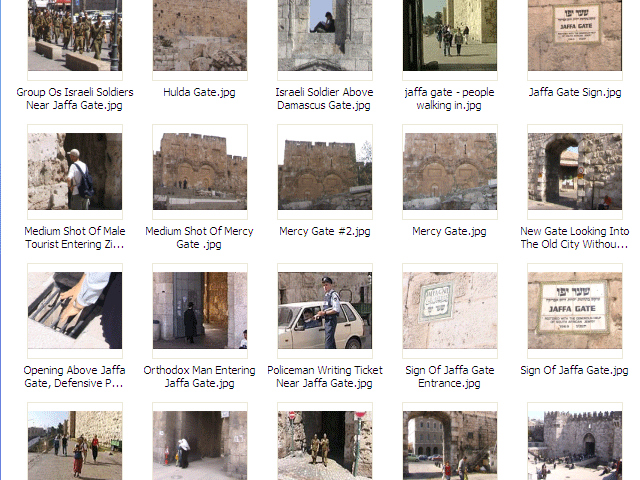 Sample Images (Reduced in Size)
Check out these titles! People who bought My Jerusalem Photo Archive also bought:

Discover Jerusalem A Multimedia Tour of Jerusalem Past and Present
Israel Flag Flag of Israel
Jerusalem Screensavers Screen Savers from the Holy City
Virtual Old City Jerusalem Full 360 Degree Panoramic Technology!