Sponsored Results: Israel --> Israel Collectors Items
Best Deals found at: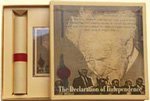 Israel Independence Educational Kit

The Official Israel Independence Commemorative Educational Kit
An Authentic Replica of the Scroll of the Declaration of Independence of the State of Israel, as it appeared when drafted and read by David Ben Gurion on that historic day, May 14 1948. Complete with signatures and the first seal of the modern day State of Israel. Plus a high-quality CD that includes the original recording of modern Israel's first Prime Minister marking this historic event. This unique and significant product makes a meaningful gift and lasting impression. The scroll is on parchment paper and suitable for framing. Read More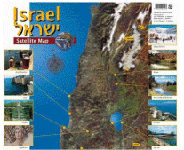 Israel From Space (MAP)

High-Quality Wall Map of Israel

This spectacular image is printed on high quality paper 35 x 100 cm. in size (Approximately 14 x 40 inches). Although Israel is a small country, it is very diverse and it shows well on this image. In that map you can clearly see different topographical features like mountain ranges, river channels, craters in the desert, etc. Major cities and Israel's borders are marked on the map in Hebrew and English. Made In Israel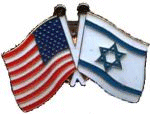 Israel-USA Flag Lapel Pins (Set of 3)

Show the world you care!
Set of 3 Israel-USA Flag lapel Pins.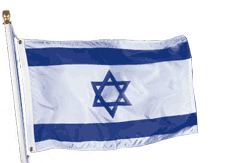 Israel Flag

Flag of Israel - High-quality, durable flag of Israel - 60 x 43.5 inches, 150 x 110 centimeters.
Mile Chai
We are your online resource for Jewish / Israeli Flags, Jewish gifts and Judaica, and music and more.
www.milechai.com
Aharon's Jewish Books and Judaica
600 South Holly Street Suite 103
Denver, Colorado 80246
303-322-7345
800-830-8660