Sponsored Results: Bible and Talmud
Best Deals found at: Bible Multimedia CD's

Navigating the Bible II

The Most Complete Bible Study and Bar Mitzah Training Tool
Complete Hebrew text of the entire Torah (Five Books of Moses) & Haftarot with English tran

Five Books of Moses on Audio CD



13 Audio CDs Featuring the Torah Narrated in Hebrew
13 Audio CD's of the complete Torah narrated in the original Hebrew. Use at home, in the car, or anywhere your cd player goes with you. Beautifully packaged, makes a perfect gift for yourself, a friend or loved one on special occasions.

Hebrew Bible Narrated

The Whole Bible Narrated in Hebrew on 4 Audio CD's! The best Hebrew narration ever... Hebrew Scriptures recorded with excellent intonation, diction, and accent. Each one of these Hebrew recordings was broadcast on Israel's National Television and Radio Stations, a chapter every night.

Word by Word - All 5 Books (Also Sold Separately)

The Essential Bible Tool - Complete Five Books of Moses 5 CD Set
Word by Word teaches the meaning and pronunciation of every Hebrew word in the 5 Books of Moses. It teaches one word at a time, in Bible sentence context and as a standalone word. It can read in auto mode, or you can set the pace of study to your personal preference. To further clarify the pronunciation of the Hebrew, each word is transliterated, as well as pronounced. We all know that a good foundation in Bible Vocabulary is essential to understanding the Bible. Word by Word will give you that, and more. It will increase your Hebrew Reading ability and comprehension. It is an essential Bible Study tool, that will help you develop Bible Study skills that will last a lifetime

Sefer Tehillim (The Book of Psalms)

The Book of Psalms
All 150 Chapters of Sefer Tehillim, the Book of Psalms, beautifully recited according to the melody of Sephardic Jews from Aleppo and Damascus. Hilited Text, English Translation, Special Events, Tehillim Calendar, and many more features, aid your learning and enhance your experience and und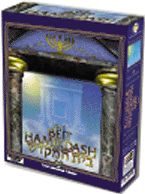 Beit HaMikdash (The Holy Temple)

Explore & Discover - Experience the Majesty
This outstanding 3D multimedia CD-ROM is a unique learning experience. Through the combination of graphics, videos and true 3D technology, you learn by doing.

Mishkan 3D

Experience the Majesty of the Mishkan in 3D!
The CD will teach the user in an inspiring way the components of the Mishkans construction and how it was made. It contains over 40 videos and 3D graphics that permit the user to get up close and really comprehend its majesty, and the miracle of its construction.

Megillat Esther

Multimedia CD-ROM for Learning Megilat Esther
The Story behind the Story... Learn the Megilla like never before using the Power of Multimedia Technology...

Bible Quiz



Over 4000 Multiple-Choice Questions on the Bible for the Whole Family!
The best Bible game, challenging, fun, educational. Enjoyment for the whole family! Bible Quiz includes over 4,000 multiple-choice questions classified by subject in three different levels: beginner, advanced, scholar. Every answer quotes the Bible verse. Up to five people can play at the same time, each one choosing his/her own subject and level.