Sponsored Results: Bible and Talmud
Best Deals found at: Talmud Tutors - Discount can range from 10 to 60% off list price
Click on view product for pricing and ordering information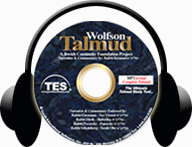 MasterDaf Talmud MP3 DVD Complete

The Whole Talmud Clearly Explained, Each Page in its Own MP3 File, Organized and Ready to Play or Copy to Your MP3 Player
N E W ! Wolfson Talmud MP3 DVD Complete - the perfect way to learn and review the Talmud. Every word of Talmud read, every word translated into English, every word explained clearly and concisely. Each Talmud page in its own MP3 file. Easy to find and easy to play on your computer or to copy to your MP3 player and listen to it in the car or wherever you go.

Word by Word Aramaic / English Dictionary

Talmud Study & Research English Translation Tool
Finally... a software program that improves the way you study Talmud. It used to be that if you did not know the meaning of a Talmudic or Aramaic word, you would turn to your Jastrow Dictionary and eventually find the meaning. Of course that was provided you knew the root of the word and where to look. The Jastrow which is the flag ship of Talmudic Aramaic Dictionaries is thousands of pages and anyone who ever used one, will appreciate Word by Word Aramaic Dictionary. Now with Word by Word Aramaic Dictionary, you have instant access to 166,895 words and definitions in Aramaic or English. Word by Word Aramaic Dictionary translates Aramaic and Talmudic words to English and vice versa. When there are multiple meanings of a word, it will show them as well. The entire Jastrow Dictionary is instantly available in electronic format. Thousands of pages are instantly accessible and printable. When checking the included dictionary you will learn the meaning of the word, its proper form and root, and example of the word used in context...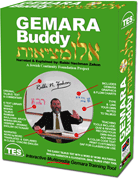 Gemara Buddy - Perek Eilu Metzios

Technology for Talmud Study and Review
Gemara Buddy - the perfect way to learn and review Gemara – Ideal tool for beginners. With Gemara Buddy you don't only see the page of Gemara in its traditional format, you hear it explained in simple English. Just click anywhere on the daf and – presto – the lesson begins. Perek Eilu Metzios is taught by Rabbi Zakon of Jerusalem.

Gemara Tutor



A Must For Every Talmud Student
The challenge of playing against the computer encourages the students to excel. Through this game the user will end up with a solid foundation of Gemara vocabulary that will last a lifetime.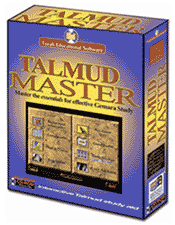 Talmud Master

Interactive Talmud Trainer
Talmud Master... like its name implies will help the user Master the Talmud. Talmud Master will train and guide you through the "give and take" of Talmudic debate. It will systematically analyze the components of a Sugya ( A Gemara discussion or debate).It will help you understand key phrases and how the Talmud uses them to signal the flow of thought.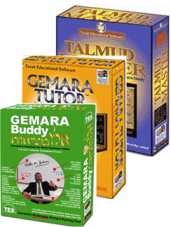 Learn Talmud Bundle

Increase your Talmud Skills and Comprehension!
3 Great Talmud Tutor CD's in one bundle!
1. Gemara Tutor will build your Gemara Vocabulary.
2. Talmud Master will train you to methodically learn a page of the Talmud
3. Gemara Buddy will take you step-by-step through a popularly learned, full chapter of the Talmud (Bava Metzia - Eilu Metzias)