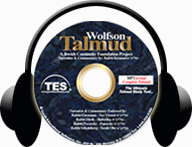 MasterDaf Talmud MP3 DVD Complete

The Whole Talmud Clearly Explained, Each Page in its Own MP3 File, Organized and Ready to Play or Copy to Your MP3 Player
N E W ! Wolfson Talmud MP3 DVD Complete - the perfect way to learn and review the Talmud. Every word of Talmud read, every word translated into English, every word explained clearly and concisely. Each Talmud page in its own MP3 file. Easy to find and easy to play on your computer or to copy to your MP3 player and listen to it in the car or wherever you go.

Wolfson Talmud Complete - 37 CD-ROMS!

Technology for Talmud Study and Review
An interactive multimedia tool for Talmud study. Narrates and Explains word by word in concise English. Increases your Talmud comprehension… Develops serious learning skills… Builds the students confidence.. Inspires a lifelong love for the Talmud…