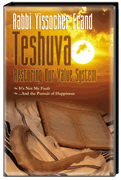 Teshuva: Restoring Our Value System
A 2 CD Set
By Rabbi Yissocher Frand


Binding: Audio CD
Published: August 2006 by Yad Yechiel Institute


Description:
Disc One: It's Not My Fault Teshuva - it seems simple enough - saying I'm sorry. But that requires accepting responsibility, and that's not so simple. Rabbi Frand helps us understand the dynamics involved in this important process, helping us learn how to come closer both to man and G-d.

Disc Two: ...And the Pursuit of Happiness
Happiness is something that all humanity wants. But what is the definition of true happiness, and how do we achieve it? In this eye-opening lecture, Rabbi Frand offers valuable insights which can help put this lofty goal within our grasp.