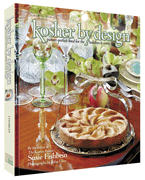 Kosher By Design -- Picture-perfect food for the Holidays and every day



Sample Recipes: Very Berry Cookies

SBN: 1-57819-707-4
Binding: Hardcover / Pages: 304

About - Kosher By Design

In this dazzling new cookbook, Susie Fishbein helps you prepare meals that look like you've spent hours in the kitchen, without the fuss. "I want the cook to feel like I'm standing in the kitchen, guiding every step," says Susie. "Cooking tips, presentation ideas and practical, down-to-earth instructions make all the difference."

Never before has a kosher cookbook become an international bestseller in less than two weeks! Now it's in its third large printing, and the excited buzz surrounding Kosher By Design continues to build. Thousands of people have tried the recipes, marveled at the stunning table decor and have told their friends — "You must buy this one!"

This cookbook has everything: spectacular photographs, tantalizing recipes, cutting-edge wine lists, floral arrangements and holiday décor. Susie Fishbein's cooking tips and down-to-earth instructions make every cook feel like the author is standing in the kitchen, guiding the way to delectable cuisine and elegant entertaining.
More than 250 luscious recipes
120 stunning color photographs
Holiday menus with complementary wine lists of the newest Kosher wines
Tips on food preparation, table decorations, floral arrangements and more
Innovative ideas for relaxed, gracious at-home entertaining
Triple-tested recipes ensure accuracy, ease of preparation and elegant presentation
Special index indicating recipes appropriate for Passover
Comprehensive index, easy cross-referencing
Laminated hardcover with concealed-wire binding, so your cookbook will last and last!