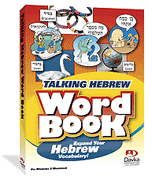 Talking Hebrew Word Book - CD-Rom Expand your Hebrew vocabulary!

Published: January 2006 by Davka Corporation

Description:
See it! Hear it! Speak it!

Improve and expand your Hebrew vocabulary with the Talking Hebrew Word Book -- an interactive Hebrew language tool featuring over 600 modern Hebrew phrases, expressions and words. It's ideal for travelers, students – for anyone who wants to improve their everyday Hebrew vocabulary.

Vibrant photos and clever cartoons bring the language to life, and the crisp, Israeli-accented Hebrew is pleasing to the ear. Record your voice and compare it with those on the program itself. It's a learning experience of sight, sound, and speech!

Are you planning a trip to Israel? Would you like to brush up on your knowledge of modern Hebrew phrases? The Hebrew Phrasebook is your solution!
Words and phrases are pronounced clearly and crisply.
Record your own voice and compare your pronunciation with the program.
Program is divided into 18 phrase sections and 29 word sections, complete with testing sections for each unit.
Phrases are shown in large, easy-to-read Hebrew letters with vowels and English translation
Learn a new Hebrew word each day with the Hebrew Word-a-Day option
Print words and pictures directly from the program
Words are shown with colorful photos
Phrases are shown with descriptive cartoon graphics
System Requirements:
PC with Windows 98/ME/NT/2000/XP, 256MB RAM minimum, CD-ROM drive, sound card, Pentium 166 or better or Mac with 512 MB RAM, CD-ROM drive, OS 9 or OS X 10.2 or better (program ships with OS 9 version and OS X native version)