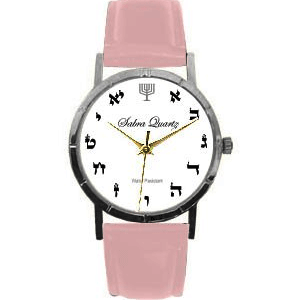 Sabra Quartz Silver & Pink

Sabra Brand Quartz watches are legendary for their beauty as well as durability.
This Sabra Pink Dress Quartz watch features the letters of the Hebrew alphabet, "Aleph Bet" as hour markers, designed in a Scribes authentic Torah Scroll Hebrew lettering which includes the intricate crowns above each letter. The 12 hour marker is set off with a handsome 7 Branch Menorah, which is one of the State Symbols of Israel.

The Watch is finished in deep silver tone mirror finish and the dial is clear and easy to read with a sweep second hand. The Crystal is Scratch Proof and movement is water resistant.

This watch comes complete with an elegant presentation box and warranty. It is the perfect gift for Bar Mitzvah, or Special Birthday and whoever gets it will cherish it!