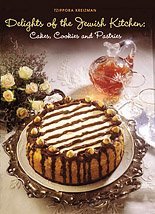 Delights of the Jewish Kitchen
If Desserts Have a Bible, This Is It!

ISBN: 1-58330-514-9
Binding: Hard Cover / 302 pages

About - Delights of the Jewish Kitchen

If desserts have a bible, this is it! Imagine the enticing scent of fresh-baked cookies, cakes, and pastries wafting from your very own kitchen, to the delight of your family and friends. It's not just in your imagination any more, thanks to this sensational cookbook. The author, a baker par excellence, imparts her tried-and-true recipes for a variety of baked goods that will enhance your Shabbos, Yom tov, and even everyday menus. From traditional favorites to elegant, eye-catching treats, this book is filled to the brim with scrumptious delights. With clear, easy-to-follow instructions, this volume is ideal for both kitchen novice and veteran. Discover the Delights of the Jewish Kitchen, and rediscover the delight of putting smiles on the faces of family, friends, and guests.