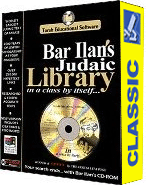 About - Bar Ilan Classic Library

Simple to use...
Yet more powerful than anything that exists...
Access and search...
Centuries of scholarship & wisdom in a split second...
View Original Hebrew Text, & Commentaries at once!
HYPER-LINKS throughout make this CD a most productive tool for research...
Everything Printable...

For 2003 Bar Ilan University is introducing a brand new version called The Bar Ilan Classic Library. This new version is the same as Bar Ilans' other two larger versions with the exception of the Responsa texts at a substantially reduced price!

Features - Bar Ilan Classic Library

- New Commentary in this version include: Tosafos, with the unparalleled accuracy based on critical checking of the texts, that is Bar Ilan's hallmark.
- New Citations allow you to look up a verse (pasuk) in Tanach, for example, press a button, and automatically have instant access to every place where that verse is discussed on any page of the Talmud (Gemara).
- New Hyperlinks feature - Imagine learning Tosafos who cites a passage in the Midrash Rabbah. Press on a hyperlink and automatically view the relevant passage in the Midrash.

ADDITIONAL NOTEWORTHY FEATURES:


Hypertext Links between: Chiddushei Ritva & Talmud Bavli & Yerushalmi Zohar & Tanach
Ability to display cross references & commentaries on individual Tanach verse
Ability to print multiple texts consecutively without page breaks.
Ability to customize appearance of database tree.
Ability to scroll database with "mouse wheel".
Ability to "drag and drop" text.
Ability to search notes and annotated texts.
Ability to print and save text and notes.
Ability to print and save copy of Shulchan Aruch without references and supercommentaries.
Virtual Hebrew Keyboard for simplified Hebrew text entry.
Index of Periodicals a total of 19,000 article titles
Instant Daf Yomi lookup - Includes: Talmud Rashi & Tosefot - Hypertext - Linked with Rambam - Talmud sentence punctuation, plus Instant Abbreviation Dictionary. In addition you have instant access to Rishonim & Achronim throughout the database.

Hypertext between databases:

Hypertext between the Bible, Mishnah, Talmud Bavli and Minor Tractates.
Hypertext between Rashi/Tosafos and the following databases: Bible Mishnah, Tosefta, Minor Tractates, Talmud Bavli, Rashi, Tosafos, Talmud Yerushalmi, Aggadic Midrashim, Halachic Midrashim
Hypertext between Shulchan Aruch/Rema
Cross references to biblical citations in other databases (Mishnah, Talmud Bavli, Minor Tractates, Rashi on the Bavli, Tosafos)


Enhancements to the Copy and Paste feature:

Pasting to the clipboard, file or printer
Copying selected search results in a window


All words of the search string are highlighted in search results Windows and expanded display windows

Option to display only selected search results
Use of different fonts:

In Parsha databases: dibbur haMaskil appears in a different font than regular text
In Shulchan Aruch database (Beis Yosef and Rema)


Forms in the Filtered Search screen can be listed in order of frequency or in alphabetical order.

ADDITIONAL STUDY TOOLS



GEMATRIA SYSTEM
BOOLEAN SEARCH
QUICK EASY SEARCH
DIKDUK SEARCH
BIOGRAPHIES of RABBIS (In Hebrew or English)
INSTANT DAF YOMI SYSTEM

NEW FEATURES ADDED IN PREVIOUS VERSIONS

The Best... keeps getting BETTER! Version 11.0 has all new "SMART HYPERTEXT" & INDEX. Plus New online tooltip Dictionary of abbreviations. Wild Card Search... New Interface... More Hyperlinks than ever OVER 280,000! New enhanced "PinPoint" Search Tools... Links to Talmudic Sugyot... New Links to and from... Rambam, Shulchan Aruch. Special Instant Tanach & Commentary "look-up" with state of the art HYPERTEXT... Enhanced interface and color printing abilities... Jewish Name Directory Linked to Tanach... Virtual Hebrew Keyboard... Search on punctuation... Right click options... Jewish/Greogrian Calendar converter... and more! Includes: Concordance - Boolean Search - Print - Copy & Paste - Gematria & Hypertext Complete with Hebrew Fonts for English Windows - No additional software or hardware needed...

New Hypertext Links:
* Hypertext between the Rambam and Shulchan Aruch
* Hypertext between the Beit Yosef and Shulchan Aruch
* link of parallel sugyot within the Talmud Bavli

Online Tooltip Dictionary:
Expansion of the Dictionary of Abbreviations by databases:
* Aggadic Midrashim
* Halachic Midrashim

More features:
1. Hebrew-Gregorian Calendar
2. Biblical Verses for Personal Names
3. Limit search to not only specific books but paricular parts of books
4. User-defined database groups
5. Save files in Rich Text Format, thereby preserving the on-screen formatting, including colors and fonts
6. Printing in color
7. Copy text using standard Windows keyboard combinations
8. Right-cllick menu options
9. Support for a phonetic keyboard in English Windows
10. Active Database Window
11. Display all the Biblical Commentaries on a specific chapter or verse in one window

Plus Much More:
All windows automatically locked
New search option - simple searches
New options for saved searches - Saved searches can now be performed over multiple databases
User-assigned names for saved searches
The results of multiple saved searches can be combined directly in a single saved search
New display options -
Filtering out duplicate search results from the same passage
Viewing only selected search results on screen
Displaying the actual text of citations, rather than just a list of citations
Displaying breakdown of search results by database when searching multiple databases
Text can be copied directly from text windows and expanded display windows to the Search screen
Books in databases can be arranged alphabetically or in their real order
In addition, thousands of new hypertext links have been included.