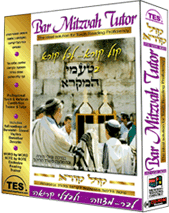 Bar Mitzvah Tutor - Kol Kore Ashkenaz Professional Torah Reading Trainer for Torah & Haftorah
Age Level: 9-Adult

Media: CD-ROM

Version: Windows 95 and higher

See also:
Bar Mitzvah Tutor - Kol Kore Sephard


ISBN: 1-931711-04-6

About - Bar Mitzvah Tutor - Kol Kore Ashkenaz

If you're thinking of reading your Torah Portion or just learning "how to read the Torah or Haftorah" this is for you. No more cassettes to wind and rewind... No frustrations trying to find the right place...

Now just click and study!

Kol Kore's method is fun... and it works! Kol Kore is endorsed by the Israeli
Ministry of Education and leading Torah Scholars.

This is tomorrow's technology today!

Features - Bar Mitzvah Tutor - Kol Kore Ashkenaz
Includes Israeli Ashkenaz Pronunciation and Ashkenazi Pronunciation
Fully recorded interactive reading of Torah Blessings
Fully recorded interactive reading of Cantillations (Taamim)
Fully recorded interactive reading of all Torah Portions...
Fully recorded interactive reading of all Haftara Portions...
Fully recorded interactive reading of all Torah Holiday Readings...
Words are highlighted IN HEBREW AND ENGLISH as cantor reads...
Special features increase reading accuracy and fluency...
Full control of learning unit size from a single word to a full Aliya...
Easy repetition of hard to pronounce words - just click the word...
Torah is displayed in Special Torah Font or conventional Font...
Cantillation and Punctuation are displayed or removed from screen by a single click...
Ability to show text in large easy reading fonts...
Ability to view Torah exactly as the actual Torah Scroll looks...
User editable colors for various parts of the scroll...
Ability to hear each word Chanted and pronounced in clear Hebrew...
Ability to hear each word chanted as a Musical Note...
Special glyphs for Shevva Na and Kammatz kattan
Easy to use software.
Works in all versions of Windows NO ADDITIONAL software or hardware to buy!
Reviews - Bar Mitzvah Tutor - Kol Kore Ashkenaz

Judy Siegel-Itzkovich - Jerusalem Post (7/1/2002) wrote:

Kol Kore Bar Mitzva Tutor, a CD-ROM in Hebrew with English translation, by
Kol Kore in Bnei Brak, distributed by Torah Educational Software
(www.jewishsoftware.com), requires Windows 95 and up and a Pentium 133 Mhz
PC or better, for boys (and girls) of pre-bar mitzva (and pre-bat mitzva)
age, or any adult who wants to polish up reading of the Torah.

Rating: ***** FIVE GRAPHIC STARS


My first job, at the age of 17 in my native New York, was to prepare Jewishly ignorant 12-and-a-half-year-old boys for their Bar Mitzva. Since these boys didnıt know a word of Hebrew or even the letters of the Alef-Bet, I was pleased if they learned merely how to read text and were able to
memorize the blessings for the Torah readings ­ and ecstatic if they developed some fondness for or curiosity in their Jewish heritage. Learning how to chant their Torah portion and Haftara was out of the question.
This excellent teaching program would not have replaced me, as users have to know how to read Hebrew to benefit from it. But anyone who can read the language (that means all Israelis, secular and observant) and is willing to invest hours of study in preparing for his Bar or Bat Mitzva would benefit from this piece of software; the more-diligent, well-motivated child could make a convincing performance on his day of man/womanhood even without any input from a knowing adult.
The developer is justifiably concerned that someone who wants to save money would buy a disk for his child and then lend (or sell) it to a relative or friend with a Bar/Bat Mitzva coming up ­ something they could not do with a human Bar Mitzva tutor. Thus the company reminds users through the the printed manual that ³to our dismay, some people think that using a program
without paying for it is not theft. This is NOT SO. This program is designed to help fulfil a mitzva. There is nothing more strictly forbidden than a mitzva that is the result of a sin.² But the developers impressively add:
³If you know of any person who needs this program but cannot afford it, please write to us, and we will be glad to accommodate.² Not only is there a key code on the diskıs crystal case, but you also have to call in or e-mail the company to obtain an additional code, which is suited only to the
computer from which the message is sent. The disadvantage here, for legitimate purchasers, is that they canıt use the program they purchased on a new computer ­ unless they explain this to Kol Kore. And anyone who doesnıt formally register for the pass-key can use the program only three times; only after getting this do you have unlimited access.
Once you pass this hurdle, go to the Portion of the Week determined by your Hebrew birthday. One had best consult a rabbi or another expert so that you donıt make a mistake and end up studying for months, only to learn that youıve learned the wrong one.
The user-friendly program lets you pull down the Book of the Torah menu to choose one, and then the section within it that you need to study. There are many options to suit the learning environment to you, most importantly the cantillation style. Choose among Ashkenazic-Israeli style (mostly commonly used among Ashkenazi modern Orthodox); Sephardic-Jerusalem style; and
Ashkenazic-Ashkenazi style (most often used among haredim who speak Ashkenazi-style Hebrew). Sephardi Jews are a bit shortchanged, as there are nearly a dozen different Sephardi styles, but would be impossible to fit them all onto a single disk. You can also choose the font styles, sizes, an
ordinary or ³parchment² background to the text, any of a dozen colors aside from white as the background and colors for the letters and the size of the reading unit. You may also decide that you want to display the text with the vowel and cantillation marks (as they appear in a printed book) or without (as in the actual Torah scroll), to hear voice of the baıal kore (person who
sings the cantillation) or to mute the sound completely after youıve learned it well enough to do it yourself. You can also pause at any time in the text.
Learn the cantillation marks, which are in a different order and contain a different set of symbols depending on Ashkenazi or Sephardi modes, for the Torah and Haftara by watching the highlighted words and hearing the reader chant them repeatedly. The blessings before and after going up to the Torah (aliya) and preceding and following the reading of the Haftara. Also available on the disk are special readings for the Shabbat before a Rosh Hodesh that falls on a Sunday, a Shabbat that coincides with the new Hebrew month, the special readings before Yom Kippur, Pessah, Purim, and other holidays. Any verse can be translated into English with a click of a button on the screen.
Work hard at this, at your own pace and whenever you have time, and all thatıs left to do is buy a new outfit, write a speech for the festive dinner and prepare to collect all those presents.