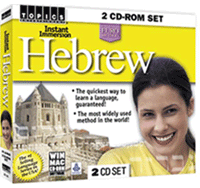 Instant Immersion Hebrew - The quickest way to learn a language, guaranteed!
Age Level: 12 & Up

Media: CD-ROM

Version: Windows 95 and higherMac OS



ISBN: 1-59150-277-2

About - Instant Immersion Hebrew

The most widely used method in the world!

In Europe , it's no secret that the vast majority of people are either bilingual or trilingual. The Euro Method™ is the easy and simple way many Europeans learn to speak a second language. Based on the same tried and proven techniques that allow a four-year old to learn to speak a language long before that same child can read or write, Instant Immersion™ Hebrew is guaranteed to be the best method for learning to SPEAK Hebrew quickly. For years, linguists have known that an immersion environment is the absolute, fastest way to learn a second language ­ the concept is based on being surrounded by native speakers and a new culture. The 2 CD-ROMs enclosed, Talk Now! and World Talk®, simulate these aspects and will move you from a beginner to intermediate speaker faster than any other language learning software on the market.

Features - Instant Immersion Hebrew

2 CD-ROM SET Includes:

Talk Now! Hebrew Designed for beginners who want to start learning a new language as soon as possible. Whether on business, vacation, or perhaps meeting a foreign visitor, Talk Now! is the disc to get you started. By hearing and practicing authentic everyday speech, your natural ability for language will develop. This EuroTalk CD is designed to be fun. Research in the early 90's at the University of California revealed that memory is greatly improved when accompanied by fun and laughter. Our quizzes, games, and stories provide that, and you'll be amazed at how much you remember after a surprisingly short time devoted to the disc!

World Talk® Hebrew The next level up from Talk Now!, and takes you on to the next stage with new activities, added dictation, and a brand new recording section. You'll cover topics including the calendar year, building sentences, asking directions, and using numbers. The interactive TV quiz is definitely a hit, where the resident champion may turn out to be more intelligent than you think! You can also compare your skill with a one-on-one match with a friend. With the unique recording feature, you can hear and compare your voice with a variety of native speakers. By mimicking the actors, you will soon see how rewarding language learning with EuroTalk is. And, how fast you learn!