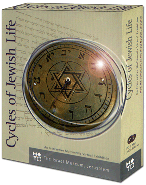 The Israel Museum, Cycles of Jewish Life Double CD-ROM Collection, Cycle of the Jewish Year, Cycle of Jewish Life
Age Level: 12-Adult
Media: CD-ROM

About - The Israel Museum, Cycles of Jewish Life

Experience Jewish Holidays and Life Events as they have been experienced throughout time and throughout the world, with this elegant CD-ROM set containing much of the rich collection of Judaica and Jewish ethnography from The Israel Museum of Jerusalem. Starting with the museum's curator cards and authoritative documentation and explanation, with videos, sound tracks and virtual image magnification your "museum" experience will be informative and life-like. An invaluable tool for understanding the beauty and traditions of the Jewish Cycles of Life throughout time.

The CD-ROM provides us with a uniquely interactive and personal experience of the Museum's collections, which are among the largest and most comprehensive in the world. Using a multifaceted approach that reflects the richness of the Jewish tradition, the program introduces users to the history of the objects, while simultaneously placing them in a contemporary context. Every subject offers a variety of artifacts from diverse communities and from different periods. Both the influence of surrounding cultures and the continuity of Jewish tradition over time and space are made manifest as you navigate the program.

This CD-ROM collection was made possible through the generosity of Isidore and Anne Falk. It was prepared over the course of four years of planning, research, collecting sources, writing, and designing. This program will provide many hours of enjoyable viewing, serving as an educational tool and an inspiring way to explore the Jewish heritage and the rich collections of the Israel Museum.

Features - The Israel Museum, Cycles of Jewish Life

Contains artifacts, explanations, videos, background information, zoom capabilities and more on the following topics:

I. THE LIFE CYCLE
Childbirth
Brit Milah (Circumcision)
Welcoming a Daughter
Pidyon ha-Ben (Redeeming a first born son)
Childhood
Bar and Bat Mitzvah
Marriage
The Jewish Home
Death and Mourning
II. THE CYCLE OF THE JEWISH YEAR
Shabbat (The Sabbath)
Rosh ha-Shanah (The New Year)
Yom Kippur (The day of atonement)
Sukkot (The Festival of Booths)
Simhat Torah (Celebrating the Torah)
Hanukkah (THe Festival of Lights)
Tu bi-Shevat (The Festival of Trees)
Purim
Pesah (Passover)
Holocaust Memorial Day
Israel Independence Day
Counting the Omer
Shavuot (Receiving the Torah)
Tish'ah be-Av (Mourning the destruction of the Temples)
Reviews - The Israel Museum, Cycles of Jewish Life

JUDY SIEGEL-ITZKOVICH - The Jerusalem Post (8/1/2002) wrote:

Cycles of Jewish Life: An Interactive Multimedia Virtual Exhibition, two CD-ROMs in English by the Israel Museum, Jerusalem, distributed by Torah Educational Software; requires Window 95 or higher and a Pentium 133 Mhz or better; Mac O/S 7.5.2 or better and PowerPC 90 Mhz processor; for all ages; regular price $129 or shekel equivalent, special introductory offer $99. - Rating: *****

The serious downturn in foreign and even domestic tourism has reduced the number of visitors to the Israel Museum in Jerusalem by about half. So if they're not coming to this glorious museum - at least for the time being - the next best thing is to bring the museum (or at least part of it)to them.

Ironically, this outstanding and elegant piece of software has been in the works for four years, started way before anyone dreamed of such a reign of Palestinian terror that would keep tourists away from the city and the country. But its launch is just in time to earn the museum some much-needed cash, and - no less importantly - to increase awareness of the Jewish life cycle and cycle of the Jewish year among Jews of all stripes and ages in the Diaspora and secular Jews in Israel.

There is reportedly no other CD-ROM that covers this rich multimedia material, and it is difficult to find even in books. The project was made possible with a donation by Isidore and Anne Falk, who founded the museum's information center for Judaica and Jewish Ethnography.

As the text notes, the objects in the wing are "silent witnesses to a vibrant, living world, to rich traditions and meaningful customs. Today, behind glass, they once held an important place in the lives of those who used them. Our aim is to return the object to its original historical and cultural setting, get close to it and hear its story." Some of the objects survived the Holocaust, unlike many of their owners.

One of the disks focuses on all the Jewish and Israeli holidays and major fast days, while the other is on Jewish life events from birth to death. Both are expertly designed in a user-friendly and intuitive fashion. There are topics such as Shabbat, Rosh Hashana, Succot, Hanukka, Purim, Pessah, Independence Day and Shavuot in Cycle of the Jewish Year disk, and on birth, pidyon haben (redemption of the firstborn), childhood, bar/bat mitzva, marriage and death and burial customs on the Life Cycle disk. Each of these major topics have sub-topic screens and then further detail in its object screens.

It's recommended to start your virtual tour of the museum's Judaica and Ethnography Wing by taking the seven-minute tutorial. Nearly everything you need to know about using the disks is there, but if you're still confused about something, click the ? icon at any time to get on-disk help.

There are hundreds of objects on display, many of which you can view from close up by using the magnifying glass icon and "rubbing" it over small images of them. Over 30 videoclips taken from the film screened over and over at the actual Judaica wing are included on the disks. And when you click a radio icon, you'll be presented with any of two dozen recordings of music and prayers relevant to the section - from a Turkish Jewish reading of the Book of Esther (complete with children using their noisemakers) and a Sephardi blessing on the birth of a daughter to an Ashkenazi rendition of Eshet Hayil on Sabbath eve and a Yemenite havdala ceremony. Each of them is a pleasure to hear again and again.

The subjects and sub-topics are accompanied by generous amounts of English text on the background of each ceremony, holiday or event. There is an index icon that gives focused information on the object displayed, including when it was made and its place of origin. When you get down to the object level, you'll see small thumbnail sketches of Judaica objects that you click to see in full view, plus a numbered line of similar objects from different ethnic origins.

The program, beautifully boxed, will make not only a great gift for yourself or others but also serve as a helpful teaching tool in Jewish schools and synagogues around the world. And there can be no better way for the Israel Museum to encourage visitors to visit when they feel it's safe enough to visit Israel.