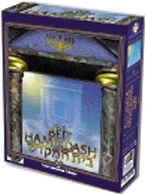 Jewish Software - Beit HaMikdash (The Holy Temple)
Explore & Discover - Experience the Majesty
Age Level: 12-Adult

Media: CD-ROM

Version: Windows 95/98/2000/NT/ME/XP
About - Beit HaMikdash (The Holy Temple)

This outstanding 3D multimedia CD-ROM is a UNIQUE learning experience.
Through the combination of graphics, videos and true 3D technology, you learn by doing.

The CD permits you to explore on your own the vast stretches of the Temple Plaza. Go ahead, visit the different Chambers... Rooms... Find the Menorah... the Ark... and the Copper Laver. Visit the Bakery.. Operate the tools... Test your skill, build the Mikdash brick by brick.

In addition to the fun of discovery, The Beit Hamikdash is a tool for further study.
Go to the interactive library and search through the many background texts that help clarify the differences between the previous Temples. The Library includes a complete Tanach which is HYPERTEXTED to the Mikdash.

This CD is an excellent educational tool. It makes you feel as if youre really there.


Features - Beit HaMikdash (The Holy Temple)

View Full 360 degrees. Includes both English and Hebrew. Climb & Explore the Temple Ramparts. Learn about the Temple by building it. Operate the Temples Tools & Vessels. Discover the beauty of the Golden Altar. Explore the underground Ritual Baths. Online interactive Help Screens. Discover the Chamber of Spices. Interactive Temple Library & Database. Includes Full Tanach in English and Hebrew.