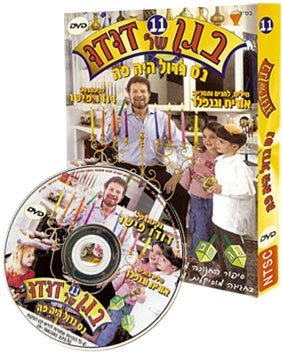 Over 20 Holiday Songs... perfect for "Sing along"
Learn how Chanukah is celebrated in Israel and all over the World
Clearly spoken Hebrew - ideal way for your child to become familiar with Hebrew.


A Dreidle That Never Stops
I Made My Own Hanukiah!
Meet The Evil Antiochus...

and Mattisyahu The Cohen
The Miracle of the Oil
Have Fun Making Donuts!

...and Latkes!
One Small Light...

Check out these titles! People who bought Dudu Fisher Celebrates Chanukah for Kids also bought:

Virtual Chanukah DVD! Exciting Chanukah Fun For the Whole Family!
Who Stole Hanukkah? It's up to you to solve the interactive mystery!
Chanukah Game & Activity Book Plus Gelt 32 Pages of Chanukah Fun!