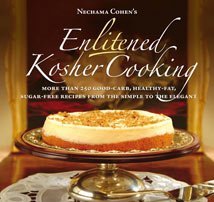 Enlitened Kosher Cooking
More Than 250 Good-Carb, Healthy-Fat, Sugar-Free Recipes From the Simple to the Elegant


ISBN: 1-58330-888-1
Binding: Hard Cover / 420 pages
In addition to the Passover Section of ENLITENED KOSHER COOKING ( page 356), there are many more recipes throughout the book that, with minor substitutions, may also be used for Passover. In general, any recipe that calls for small amounts of flour or soy protein powder (1-3 tablespoons) can be adjusted using potato starch instead.

About - Enlitened Kosher Cooking

Looking to lose weight? Want to learn how to eat smart? Introducing Enlitened Kosher Cooking, a cookbook and guide to healthy eating. As the 250+ low-fat, sugar-free, and low-carb mouth-watering recipes attest, healthy eating doesn't have to mean tasteless eating! With obesity and diabetes on the rise, it's more important than ever to take care of our bodies, and take control of our diets.

Making informed eating choices is easy to do with the information you'll find in Enlitened Kosher Cooking. Educate yourself about carbohydrates, proteins, and fats. Learn how to tailor your favorite recipes to suit your dietary needs. Comprehensive and comprehensible nutrition charts make it easy to determine portion sizes and food values. No more guessing -- and no more unknowing sabotage of your diet! Perfect for home, entertaining, and even for the holidays, Enlitened Kosher Cooking makes eating right delicious!