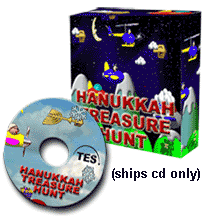 Hanukkah Treasure Hunt
Holiday Fun for the Whole Family - Real 3D Adventure!
Ages: 9-Adult

Version: Windows 98/2000/NT/ME/XP

Media: CD-ROM



About - Hanukkah Treasure Hunt

Here is a Game the whole family can enjoy.
The goal of the game is to accumulate as many Hanukkah presents as possible. Your
task is to pilot your own single seater plane through a sky full of obstacles.

Great 3D graphics plus a Hanukkah theme sound track and Torah questions keep you entertained with educational fun.