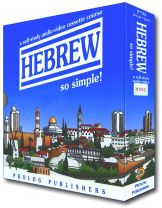 Hebrew So Simple!
Easy, Fun, Self-Study Audio & Video Course!
Ages: 12-Adult


Everything you need is included in this Hebrew Language Course.


About - Hebrew So Simple!

Hebrew So Simple is a 1-2-3 easy, fun, self-study Audio-video course that will give you the tools you need to be able to SPEAK, READ and UNDERSTAND modern Hebrew. This is a complete course that emphasizes essential Hebrew grammar and provides a wide variety of useful methods and skills that will
help become proficient in Hebrew.

This Course includes:

1- 320-page textbook
2- 3 audio CDs for car or computer use.
3- Videotape with 25 Hebrew story board sequences
4- Special grammar and speech exercises

Features - Hebrew So Simple!

Course Structure and Learning Method:

First, study the lessons in the textbook. Each lesson consists of new vocabulary (translated throughout and accompanied by English definitions), dialogues and exercises, along with clear and simple grammatical explanations.

Next, listen to the audio CDs, which take you through the 30 lessons of the book step-by-step. Professional narrators read the new vocabulary, idioms and dialogues clearly, with the proper stress and intonations, and introduces all the exercises in the book.These CDs can be listened to in your car or computer, with Hebrew So Simple there is no need to be tied to your computer.

Finally, move on to the video, which features 25 two-to-three minutes sequences. Each sequence focuses on a particular conversational topic based on a new dynamic and unique video-active method. These sequences enable you to actively participate in the conversation: just repeat the appropriate Hebrew subtitles as they appear on the screen.

The video scripts in the book, which are fully transliterated, prepare you for the role you are about to assume as a Hebrew Speaker. You'll find these sequences humorous and enjoyable. Above all, they are guaranteed to bolster your confidence in speaking Hebrew in everyday situations. This program is suitable for beginners as well as intermediate Hebrew Speakers.