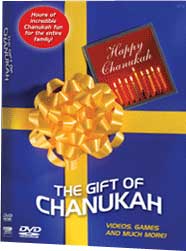 Virtual Chanukah DVD!
Exciting Chanukah Fun For the Whole Family!
Ages: Whole Family
Language: English
Media: DVD-ROM
About - Virtual Chanukah DVD!

See the Miracles of Chanukah and of Today! Light Menorahs with dignitaries from around the world. Marvel at the world's largest Menorah, a Menorah made from Chocolate and another from ice. Play Chanukah games and learn new recipes. Great Chanukah fun for the whole family!

Features - Virtual Chanukah DVD!

DVD Includes:

* 5 Amazing Chanukah Videos
- Miracles of yesterday and today
- World's Most Unusual Menorahs
- Top Dignitaries from around the world extend wishes and take part in the Chanukah celebration
- A Most inspiring Chanukah Play
- Traditional Chanukah songs...

* 5 Exciting Chanukah Games
- Dreidel Snowboard
- Chanukah Bubbles
- Chanukah Painting
- Chanukah Word Search
- Menorah Jigsaw...


* Chanukah Holiday Guide
- Chanukah History, Customs and Fun Facts...

* Traditional Chanukah Recipes.

* BONUS! Spin the dreidel with the President of the United States, Light the Menorah with Governors and Astronauts...

* Includes Blessings for lighting the Menorah.

Images - Virtual Chanukah DVD!

Holiday Guide
Chanukah Games

Chanukah Recipes

Videos - Virtual Chanukah DVD!
View Video Trailer

Check out these titles! People who bought Virtual Chanukah DVD! also bought:

Avner Travels in Time - Judah & the Maccabees Real-Time 3D Jewish Educational Adventure Game!
Who Stole Hanukkah? It's up to you to solve the interactive mystery!
Hanukkah Treasure Hunt Holiday Fun for the Whole Family - Real 3D Adventure!