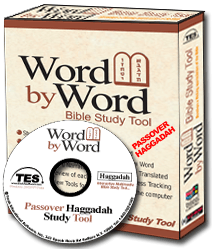 About - Word by Word Passover Haggadah

Word by Word teaches the meaning and pronunciation of every Hebrew word in the Passover Haggadah. It teaches one word at a time, in Haggadah sentence context and as a standalone word. It can advance word by word in auto mode, or you can set the pace of study to your personal preference. To further clarify the pronunciation of the Hebrew, each word is transliterated, as well as translated. We all know that a good foundation in Hebrew Vocabulary is essential to understanding the Haggadah. Word by Word will give you that, and more. It will increase your Hebrew Reading ability and comprehension.

Features - Word by Word Passover Haggadah

* Learn at your own pace - word by word.
* Learn the Meaning of every word.
* Learn the Pronunciation of every word.
* See English transliteration of each word.
* View English translation of each verse in context.
* Every word, Transliterated and Translated in English.
* View text in selection of large E-Z Reading Fonts with Vowels.
* Interactive Review of each lesson + Tracking of progress.
* Global Review and tracking of words that require further study.
* Printout of words missed with corrections & transliteration for review away from computer
Reviews - Word by Word Passover Haggadah

Judy Siegel-Itzkovich (1/1/2007) wrote:

Word By Word: Bible Study Tool, a CD-ROM in Hebrew and English by The Educational Software Company, requires Windows 2000/XP, for children and adults, $39.95 (or shekel equivalent) for the Book of Genesis and the whole Pentateuch 5 CD-ROMS for $149.95 (or shekel equivalent). Rating: Five Stars *****

Now that Simhat Torah has passed and the annual cycle of Torah portions has begun, it is again worth reading the Bible from "In the beginning..." Doing so in English does not provide the same satisfaction as in the original Hebrew. But what do you do if your command of the language is rusty?

This useful program... really part on an ongoing work in development at The Torah Educational Software Company (TES) in Monsey, New York ­ is for you, Jew and non-Jew, as well as for English-speaking Jewish children who have embarked
on their Torah studies. Released just a few months ago, it has already been introduced successfully in many Jewish schools abroad.

The developers, who have produced many pieces of Jewish software over the last 17 years and have been working on the project for three years, are now up to the second Book of Kings and able to translate another book for a new
CD-ROM every few months. TES president Emanuel Fishman predicts it will take another two years to complete the whole Hebrew Bible.

Word by Word Bible was designed from the ground up based on customer requests, the program offers the exact English translation of every Hebrew word, word by word as stated by the title. Each word is highlighted with color and sounded out in a male voice in Sephardic (modern) Hebrew, translated into English and transliterated for pronouncing it correctly. This pronunciation feature is not yet incorporated in the Haggadah,however TES will release a FREE UPGRADE to all those with the earlier version.

There is the option of changing the font size to suit all eyes which makes reading a pleasure.

Enter your name so that your progress will be saved; there is room for 10 names; if an 11th user is entered, the most veteran user will be replaced. Very simple to use, the program opens with a few bars of theme music, to get you into the mood for studying, and then stops to allow you to concentrate.

In the study mode, you may start from the first verse of Genesis or pull down the menu to choose another chapter (of the 50 in Genesis) and verse or another Book if you have the whole Pentateuch version. You advance from word
to word by clicking on "Next Word" when you are read. Optionally, you can turn on Auto Advance feature, and the narrator, highlighting, translation and transliteration will proceed automatically every number of seconds that
you choose.

In review mode, you are tested randomly ­ in a multiple choice format ­ on more than 200 words you learned in each chapter (including repeats). The beginneršs level sets no time limit, while the intermediate level requires that you click on the translated word within 15 seconds and the advanced level in seven seconds. You can also hear the word pronounced as you take the quiz. Your scores are saved under your name.

After you complete the review quiz, click a button to see the words you missed in the order you missed them (not alphabetically); all of those are displayed with their translations and transliterations, and this list too can be saved
to the disk's clipboard and printed for study away from the computer. The words are listed in the order that you missed them, not alphabetically with their correct English translation and transliteration..

A very useful Bible dictionary stores all the words from alef to tav found in the Books of the Bible that are covered, giving the Hebrew word, its translation and its transliteration; all the words can be printed out for studying away from the computer or saved on the clipboard and pasted into any Microsoft Word or Dagesh Pro Document.

When TES completes the Bible, they will not have finished. Fishman has plans to create a Word by Word Siddur (prayer book), Mishna and Talmud using the same format. More power to them!