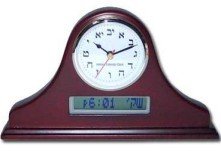 The Jewish Clock Hi-Tech
The Jewish Shul Clock
The Jewish Watch - Hi-Tech


Note: Each clock comes with a One Year Warranty and Clear English instructions.

About - The Jewish Desk Clock

The Jewish Desk Clock is 10.5 inches x 6 inches high and has all the standard every day time-keeping features of today's quality, clocks. In addition, The Jewish Desk Clock can be set to display the Hebrew or Gregorian date, in your choice of the Hebrew or English language. Conversion between the two calendars is automatic. The Hebrew dates change at sunset.

What makes The Jewish Desk Clock unique is a sophisticated microchip,developed in Israel, which displays messages according to the Hebrew Calendar and Jewish Times. (See Features list below)


Features - The Jewish Desk Clock

The Jewish Clock Alerts you with messages during the following times:

* The time for reciting the Shema
* Sunset
* Candle lighting time on Erev Shabbat (It also rings 15 minutes in advance as a reminder)
* The beginning of each Hebrew Calendar month.
* The Shabbat of blessing the new month.
* A reminder to add the additions to prayer on Hanukah and Purim
* A reminder to add the additions to prayer on Chol Hamoed
* The count for the Omer.
* The Torah Portion of the week (with a choice of setting for Israel or the Diaspora)



The Jewish Clock can be programmed for any location in the world. There are seven pre-programmed cities: Jerusalem, London, Tel-Aviv, Paris, New York, Buenos Aires, Los Angeles.

3 special Hebrew or English messages can be programmed into the watch as reminders of a Anniversary, Birthday, or Yahrziet. The messages will scroll across the screen to remind you at the appropriate time.

Check out these titles! People who bought The Jewish Desk Clock also bought:

Jewish Time Interactive Jewish Calendar - never be late again!